Future events
Chairman's briefing on M515 Phase 1 Informal Review
An online tele-conference will be held on Thursday 30th November 2017 to explain the purpose of the Phase 1 Informal Review of EN 1997-1 and EN 1990.
Click here for details.
---
6th meeting of SC7/Working Groups
The next meeting of CEN TC 250/SC7/WGs will be held in Berlin, Germany, in December 2017.
Click here for details.
---
33rd meeting of SC7
The next meeting of CEN TC 250/SC7 will be held in Aarhus, Denmark, in May 2018.
Click here for details.
Past events
Systematic review of Eurocode 7
National Standards Bodies held a Systematic Review of Eurocode 7 in 2015, in order to gather comments and views ahead of the fortcoming revision of the standards.
The comments received are currently being consided by SC7 for potential implementation in the next version of Eurocode 7.
---
ETC10 Evaluation of Eurocode 7
This Technical Committee, established by the European Society for Soil Mechanics and Foundation Engineering and chaired by Dr Trevor Orr, is charged with evaluating the introduction of Eurocode 7 into European design practice.
See ETC10 for further details.
International Workshop at Pavia held
---
3rd ISSMGE Webinar
Andrew Bond (Chairman on SC7) delivered the 3rd ISSMGE Webinar on
'Eurocode 7: past,present, and future'
in December 2011. Download the notes from this webinar. Re-play the webinar from the ISSMGE website.
---
Eurocode 7 Today and Tomorrow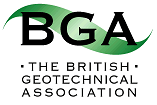 Find out about the BGA Symposium entitled 'Eurocode 7 - Today and Tomorrow', which was held in Cambridge on 23rd March 2011.
See Today and Tomorrow for further details.